OR Esports set up a remarkable performance in their first round of the BGIS 2023 The Grind Esports, achieving the first position with 59 points in Group 10. Led by Jelly, the unit had an impressive run in the first two games due to which they managed to rank first in their group. FFC Esports, who came second with 40 points, was the most consistent team throughout all three matches.
Up50 Esports focused on elimination points and held the third spot with 39 points. Norules Xtreme jumped to the fourth position with 30 points after clinching the third encounter. Initiative Esports luckily ranked eighth in the overall chart with 17 points.
---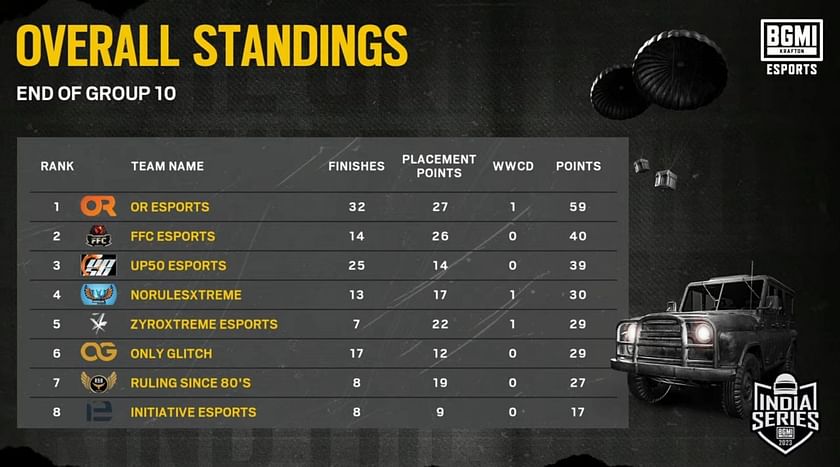 OR Esports put on an astounding display of teamwork in their initial game, marking their first Chicken Dinner with 32 points. Their three athletes, Jelly, Macc, and Maxu, grabbed seven, six, and four kills, respectively. Only Glitch took 14 points with the help of six eliminations. UP50 Esports picked up eight eliminations before being eliminated earlier there. Glitch Gaming was the only squad that could not secure any points in this first battle.
Match 2 – Miramar
Zyro Esports' brilliant moves in the last few circles helped them take a much-needed six-kill victory. However, OR Esports once again took the top spot in the match rankings as the Jelly-led roster earned 27 points. Up50 Esports and FFC were also consistent, adding 16 and 12 points to their pockets, respectively. RIP Mizo decided to compete safely and gained 10 points without any elimination.
Match 3 – Sanhok
The third round, which was held in Sanhok map, saw numerous intense fights. Norules Xtreme eventually came out victorious with eight finishes. Ruling Since 80's and FFC Esports were the second and third best performers with 17 points each. UP50 Esports had another steady gameplay, scoring 13 points. While Initiative Esports tried their best to capture 12 points, RIP Minzo obtained only five points in their crucial match of the BGIS The Grind Round 1.